In our previous article, we looked at the biblical basis for Christians engaging in business to try to earn profit. In this article, we will dig a bit deeper into the idea of wealth creation.
Wealth is in essence a good thing, even though it can become an idol.
Basically, business is about creating wealth. While avoiding the errors of the prosperity gospel, we shouldn't be scared of the word "wealth." Wealth is in essence a good thing, even though it can become an idol. This is true of all God's good gifts. All of us need money in order to take care of our families, to give to the church, support missionaries, and take care of the poor. Wealth is not an evil thing when used for God's glory. It is God who gives us the ability to produce wealth and earn money. In Deuteronomy 8:18, Moses tells the Israelites: "You shall remember the LORD your God, for it is he who gives you power to get wealth, that he may confirm his covenant that he swore to your fathers, as it is this day."
Wealth Isn't a Zero Sum Game
Some people tend to think of wealth as a limited cake, that there are only a certain number of slices to divide up among everyone in a society, or in the world as a whole. But wealth is not limited in that way. Just look at how the number and percentage of people living in extreme poverty has drastically reduced worldwide in the last couple hundred years. Yet this happened with the population going from about 1 billion to about 8 billion people in the last 200 years. We didn't just reshuffle the wealth around, rather people created more wealth!
So, clearly, God is able to use people to come up with new ideas and inventions so that there is more to be shared among so many people. While it is true that some natural resources are actually limited and can run out, such as oil and minerals, the general principle is still true that wealth can be created.
There is potential for amazing reproduction of wealth because of the way God's creation works.
God uses his people to develop his creation and create wealth. If someone else becomes rich, it does not mean that I must become poor. It is not always a competition between scarce resources. If we have two avocados, we do not have to fight over them, but we can each take an avocado, extract the seed to plant a tree, and each get a whole tree of avocados from it. Through God's good design, our creativity, hard work, and cooperation we can develop and produce new things. There is potential for amazing reproduction of wealth because of the way God's creation works.
Principles of Wealth Creation
Listen to several principles from the Wealth Creation Manifesto, created by the Lausanne Global Mission Movement and BAM Global. They write that wealth creation is:
Rooted in God the Creator, who created a world that flourishes

with abundance and diversity.

Part of being created in God's image, to co-create with him and for him, to create products

and services for the common good.

A holy calling, and a God-given gift, which is commended in the

Bible.

Worth affirming in the church. Thus we should equip and deploy business people to

serve in the marketplace among all peoples and nations.

Proven to possess the power to lift people and nations out of

poverty.
Creating Wealth Depends on Job Creation
Creating wealth is only accomplished by creating jobs. Unemployment is above 25% in some African countries. Giving people financial aid is extremely important in many circumstances, especially in times where emergency relief is needed. But such giving does not create wealth. We must continue to be generous to the poor, but to truly help the poor we need to help them find work and create jobs.
To truly help the poor we need to help them find work and create jobs.
Listen to this quotation from George Ayittey, a Ghanaian economist, "The Cheetah Generation is the new and angry generation of Africans who can see that their leadership has failed them…They're not going to sit there and wait for governments to come and do things for them. As a matter of fact, they're not going to sit there and beg for foreign aid, because they can see that every social need in Africa is a business opportunity. The Cheetah Generation is entrepreneurial." As Christians, we should also follow Ayittey's advice to look at social needs as business opportunities.
See Needs as Opportunities
This does not have to be seen as selfishness. By creating business to respond to people's needs, we can create wealth. And at the same time we are helping people to meet their needs.
God has called us to steward his good creation and he blesses the works of our hands.
One clear example of this is the Mpesa mobile phone banking system in Kenya, which has now spread throughout much of Africa through various companies. It started because there was a need for people to save money safely and easily, and make money transfers and payments, without having to travel far distances to banks or paying high bank fees. Creating Mpesa was profitable but it has also helped millions of poor people as a source of employment and support. Other benefits discovered through Mpesa are the ability to pay for services and products quickly, from a distance, and it is an easy way to share money with friends and family in need.
Listen to Herman Chinery, a businessman in Ghana, nicknamed the Bill Gates of Ghana. "In every business you do, it has to be win-win. The person who is buying your service must win, and you must win. Otherwise, it's not sustainable." Mpesa was clearly a win-win both for the customer and for the founders of the company.
We need to complain less about the problems in our society and try to see the new jobs and business opportunities that will be created by responding to those problems. We can create a better life for all through creativity and using what God has provided. Anglican Bishop John Rucyahana in Rwanda said, "Instead of training job seekers, we train job makers," he says. "We need to be able to move from aid to production."
God has called us to steward his good creation and he blesses the works of our hands. Let's have confidence that as we work hard and try to create jobs, this in turn can help other people and it can create more wealth for all of us.
Questions for Reflection:
How do churches in your community view wealth creation?

How does our attitude toward other people change when we view wealth as something that can be created rather than as something that is limited that has to be fought over?

In which ways can you more intentionally follow God's example as the Creator? How can you be more creative or create new things?

Can you think of more examples of social needs that creative Africans turned into business

opportunities?

What needs in your community have not been met yet that might be able to become a business opportunity for you or someone else in your community?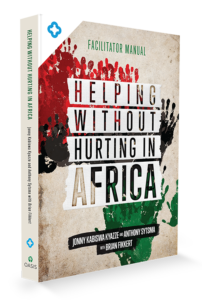 Helping Without Hurting in Africa: Facilitator Manual trains leaders to proclaim the gospel in both word and deed, changing mind-sets and helping them apply biblical principles to care wisely and compassionately for people who are poor without unintentionally doing harm.
Helping Without Hurting in Africa provides readers with the foundational concepts and tools in Christ-centered poverty alleviation and doubles as a ready-to-use facilitator manual that helps participants:
Grow in their relationships with God, others, self, and the rest of creation.
Gain a new focus on the kingdom of God in their ministries.
Renew their love and compassion for the materially poor.
Obtain knowledge about how to help low-income individuals and communities more wisely.
Empower churches and ministries to bring lasting change, starting with their own resources.
Contact Oasis Regional Directors to order Helping Without Hurting in Africa: Facilitator Manual:
Regional Director East Africa: WhatsApp: +27 79 572 4877
Regional Director West Africa: WhatsApp +234 809 111 1184
More ordering information at oasisinternationalpublishing.com/buy